We Are Resilient™
Program for Employee Wellness
The novel coronavirus, COVID-19, is creating tremendous strain for employees now working remotely and for families who may be in quarantine. We Are Resilient™ provides simple and practical skills for managers and team members to help alleviate this stress. Even when we feel we don't have control over aspects of our lives, we can tap into our inner capacity for resilience to feel confident in the face of uncertainty. To help navigate this increasingly challenging time, managers and team members benefit from being able to recognize their protective patterns and leverage strong centering skills. We Are Resilient™ teaches practical skills to do both. It also offers leadership skills in connecting and collaborating with others to achieve your company vision and mission.
We Are Resilient™ can help your team members learn to identify and deal with their anxiety and worry by boosting their ability to center, connect, and collaborate. We provide training, consulting, and products that help your managers and team members create a caring and effective workplace of engaged and enthusiastic teams resulting in stronger performance and superior customer experiences.
Business Impact
Helps team members successfully navigate daily stressors, adversity, and sudden change such as working virtually due to COVID-19.
Enhances team productivity and performance utilizing skills to handle conflict quickly.
Enhances work culture and secures team member retention through a shared model, language, and experience of organizational resilience.
Superior customer experience delivered by centered, connected team members focused on the health and wellbeing of themselves and others.
Dovetail Learning customizes our services to your needs.
Call us to discuss (707) 861-3386 or email ​info@dovetaillearning.org.
STEP 1: Starts with Noticing our Protective Patterns
Protective Patterns:
Protect us from harm
Help us survive
Normal in stress, trauma
Can limit us
Need to assess each situation: Is my reaction helping or making it worse?
Download a free introductory handout to learn more about Protective Patterns.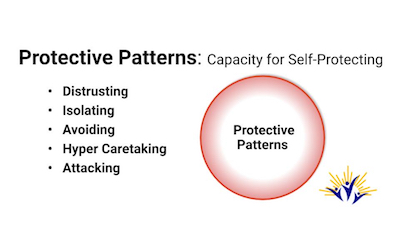 STEP 2: Skills for Centering Myself
Centering:
Calms us
Restores inner balance
Relieves stress and anxiety
Reduces negative thoughts
Focuses on the present
Helps us achieve personal goals
Download a free introductory handout to learn more about how to use Centering Skills.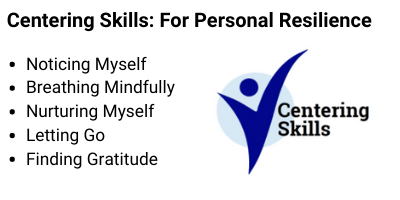 STEP 3: Skills for Connecting with Others
Connecting:
Creates safety, trust, and belonging
Builds empathy and understanding
Opens our heart to kindness
Reduces blame, judgment, and bias
Encourages equity
Helps us feel seen, heard, and valued
Download a free introductory handout to learn more about how to use Connecting Skills.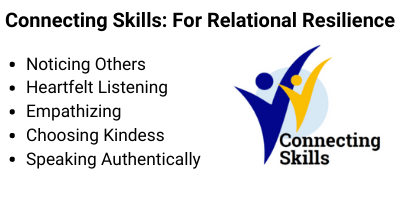 STEP 4: Skills for Collaborating Together
Collaborating:
Fosters a shared purpose
Supports co-creation for common good
Encourages healthy boundaries
Honors the contributions of all
Creates shared accountability
Promotes integrity
Download a free introductory handout to learn more about how to use Collaborating Skills.