We Are Resilient™
for Parents, Caregivers, and Families
We Are Resilient™
Helps parents/caregivers and their family members manage stress such as working and going to school virtually due to COVID-19.

Enhances family connectivity by providing researched-based practical skills to handle conflict more effectively.

Grows personal, relational, and your family's group resilience for a more resilient family.

Identifies common reactionary patterns and gives skills to help you move from reactivity to choice.

Includes family activities to help your children gain resilience and strengthen family bonds.

Provides a common language to strengthen communication and greater self awareness.
"This approach presented an easily accessible framework of concepts and practices to help me both identify patterns in my thinking and behavior that reduce resilience, and practices to help me move beyond them. I look forward to sharing the information with my family. Participating in the Circle was a positive learning experience!" ~ Mother of 3
The We Are Resilient™ Approach
We Are Resilient™ offers simple, effective, and research-based skills that help parents and caregivers cope with stress and share these skills with the children in their homes. These skills help us Center, Connect, and Collaborate. To use Resilience Skills most effectively, we also have to develop an awareness of both our Protective Patterns — which inform how we react to the world, and our Cultural Patterns — which inform how we view the world.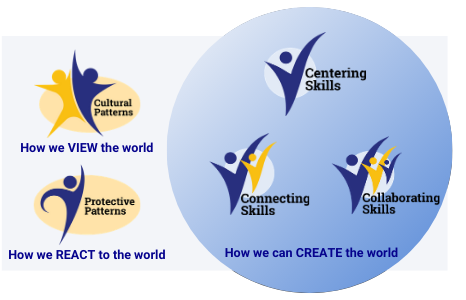 Step 1: Develop Awareness of Our Patterns
Noticing our Cultural Patterns
When Connecting or Collaborating, we are more effective with strong Cultural Resilience. We acknowledge our Cultural Patterns that have been passed down through the generations, as well as seek to understand the patterns of others. Cultural Patterns can be: 
Helpful in navigating our world

Sources of strength, belonging, and celebration

Perpetuating racism and discrimination
Assessed for each situation:
Is my judgment helping or making it worse?

Noticing our Protective Patterns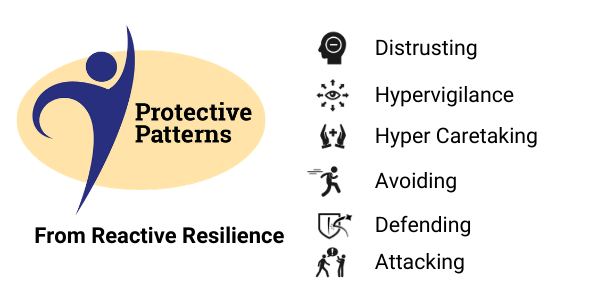 When facing a challenge, our initial response can be a common pattern of reactive resilience. These default reactions can be:
• Normal under stress
• Developed as protective mechanism
• Helpful in certain circumstances
• Limiting for us
• Assessed for each situation: Is my reaction helping or making it worse?
Skills for Centering Myself
Skills for Connecting with Others
Skills for Collaborating Together