We Are Resilient™ for Educators
We Are Resilient™
Helps educators manage stress by strengthening their resilience, especially during COVID-19 uncertainties, and the challenges of distance learning.

Helps to mitigate the effects of vicarious trauma and compassion fatigue of the profession.

Defines resilience in a meaningful way and connects Social Emotional Learning (SEL) to personal resilience, relational resilience, and group resilience.

Transform ACEs and trauma awareness into a source of healing, normalizing the formative stressors of life.

Identifies common reactionary patterns and gives skills to help you move from reactivity to choice.

Provides a common language to strengthen communication and greater self awareness
"I found it valuable to learn new content related to my own self development. I also appreciated getting to share with colleagues and hearing their thoughts. I liked the model of the circle. This made the circle feel like a place where everyone's contributions were important and allowed us all to think critically about the material."
The We Are Resilient™ Approach
We Are Resilient™ offers simple, effective, and research-based skills that help school administrators, teachers and staff members cope with stress and develop a stronger team.These skills help us Center, Connect, and Collaborate. To use Resilience Skills most effectively, we also have to develop an awareness of both our Protective Patterns — which inform how we react to the world, and our Cultural Patterns — which inform how we view the world.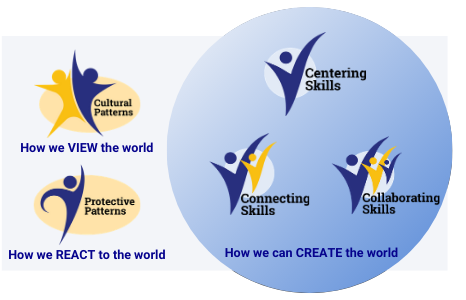 Step 1: Develop Awareness of Our Patterns
Noticing our Cultural Patterns
When Connecting or Collaborating, we are more effective with strong Cultural Resilience. We acknowledge our Cultural Patterns that have been passed down through the generations, as well as seek to understand the patterns of others. Cultural
Patterns can be:
Helpful in navigating our world

Sources of strength, belonging, and celebration

Perpetuating racism and discrimination

Assessed for each situation: Is my judgment helping or making it worse?

Noticing our Protective Patterns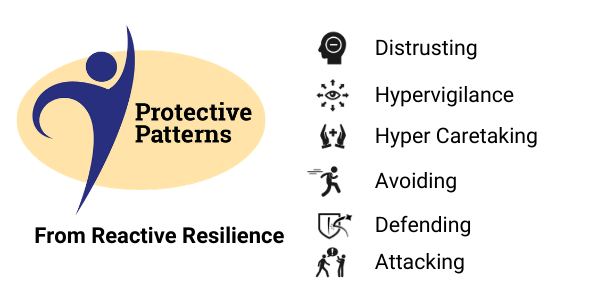 When facing a challenge, our initial response can be a common pattern of reactive resilience. These default reactions can be:
• Normal under stress
• Developed as protective mechanism
• Helpful in certain circumstances
• Limiting for us
• Assessed for each situation: Is my reaction helping or making it worse?
Skills for Centering Myself
Skills for Connecting with Others
Skills for Collaborating Together