We Are Resilient™ Teen Internship Summer 2021
Are you:
Interested in helping your peers learn to manage their anxiety and stress?
A team player with strong communication skills?
Looking for real-world experience to build your resume?
We are looking for diverse teen voices to help adapt our highly regarded adult mental health materials to be accessible and engaging for teens. We need peer leaders, writers, artists, video-creators, and others!
The short application includes a sample of your work. This can be a writing sample of 300 words or less, a 3-5 minute video, or any creative submission about why you are interested in this project. This is to highlight your talent, be fun and should take no longer than 60 minutes.
Applications due April 14th by 5pm 
By participating in this internship opportunity, you will be helping to adapt the We Are Resilient™ approach for teens by teens which will then be made available for any individual teen or high school classroom as an Open Education Resource. The digital version will be free and available for all. Learn more about We Are Resilient by downloading the materials below or visit Dovetail Learning's YouTube channel. For more information, contact our team at info@doevtaillearning.org.
The We Are Resilient™ Approach
We Are Resilient™ offers simple, effective, and research-based skills that help people cope with stress and develop stronger personal and relational resilience. These skills help us Center, Connect, and Collaborate. To use Resilience Skills most effectively, we also have to develop an awareness of both our Protective Patterns — which inform how we react to the world and our Cultural Patterns — which inform how we view the world.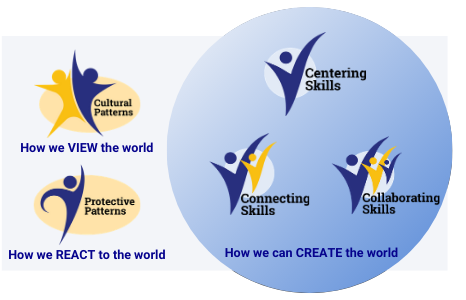 Step 1: Develop Awareness of Our Patterns
Noticing our Cultural Patterns
When Connecting or Collaborating, we are more effective with strong Cultural Resilience. We acknowledge our Cultural Patterns that have been passed down through the generations, as well as seek to understand the patterns of others. Cultural
Patterns can be:
Helpful in navigating our world
Sources of strength, belonging, and celebration
Perpetuating racism and discrimination
Assessed for each situation: Is my judgment helping or making it worse?

Noticing our Protective Patterns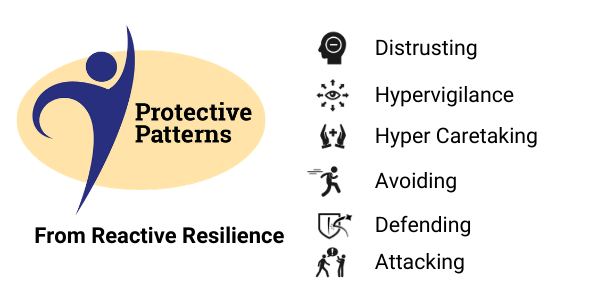 When facing a challenge, our initial response can be a common pattern of reactive resilience. These default reactions can be:
• Normal under stress
• Developed as protective mechanism
• Helpful in certain circumstances
• Limiting for us
• Assessed for each situation: Is my reaction helping or making it worse?
Skills for Centering Myself
Skills for Connecting with Others
Skills for Collaborating Together