Free – Open Education Resources
What is an Open Education Resource (OERs)?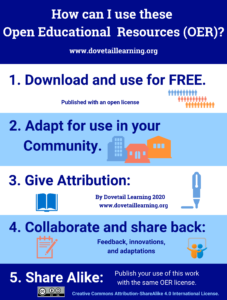 OERs are educational materials that are published with an open license (or are in the public domain), so that anyone can legally and freely copy, use, adapt, and re-share them. A helpful way to define the boundaries of acceptable use is to publish the OER materials with a Creative Commons License.
Are OERs actually free? 
Yes! Enjoy the free digital resources below!
Also, if you invest in professional development, training, and coaching, your use of these OER resources will more likely be impactful.  Your colleagues might also prefer physical copies of the curriculum or other products. These other sales are what allow Dovetail Learning to be financially self-sustaining.  If you would like to learn about additional training and support or to purchase any physical copies of the below resources, visit our online store or contact us at info@dovetaillearning.org.
Please attribute this work as:
We are Resilient™ by Dovetail Learning is licensed under a Creative Commons Attribution-ShareAlike 4.0 International License.
This license lets you remix, tweak, and build upon our work, as long as you credit Dovetail Learning and license your new creations under identical terms. All new works based on our work will carry the same license.
Click here to download this colorful 12" x 18" poster of the whole We Are Resilient™ approach in English. Click here to download this poster in Spanish.  This visual aid helps you notice your Cultural and Protective Patterns and remind you to practice your Resilience Skills of Centering, Connecting, and Collaborating. Perfect for homes, offices, and classrooms.
To purchase the physical copy of any of the above resources or training and support please visit our online store, or contact us at info@dovetaillearning.org.
We Are Resilient™ Introductory Handout Set
This collection of one-page, colorful handouts presents the We Are Resilient approach in simple language for parents and caregivers.  Perfect as a healthcare provider or educator handouts, each handout describes either an overview concept, the Protective Patterns, or the Resilient Skills. The Protective Patterns handouts describe when the Protective Pattern might be helping or hurting us and gives us ways to think about how it might show up in our life. The Resilient Skills handouts describe when and how to practice the skills, how to model and coach the skills for families, as well as ideas to think about and activities that can help us integrate the skill into our life.
Topics include: What is Resilience?, How Can We Become More Resilient?,  What Are Cultural Patterns?, What are Protective Patterns?, as well every Protective Pattern, Centering Skill, Connecting Skill, and Collaborating Skill.
Click here to download the Social Justice Guide. Building on the concept of Cultural Patterns, this 5-page pdf describes how the We Are Resilient™ approach can be a lever for social justice, including how White Cultural Patterns can limit our perspective and how the approach can help us create equity and inclusion.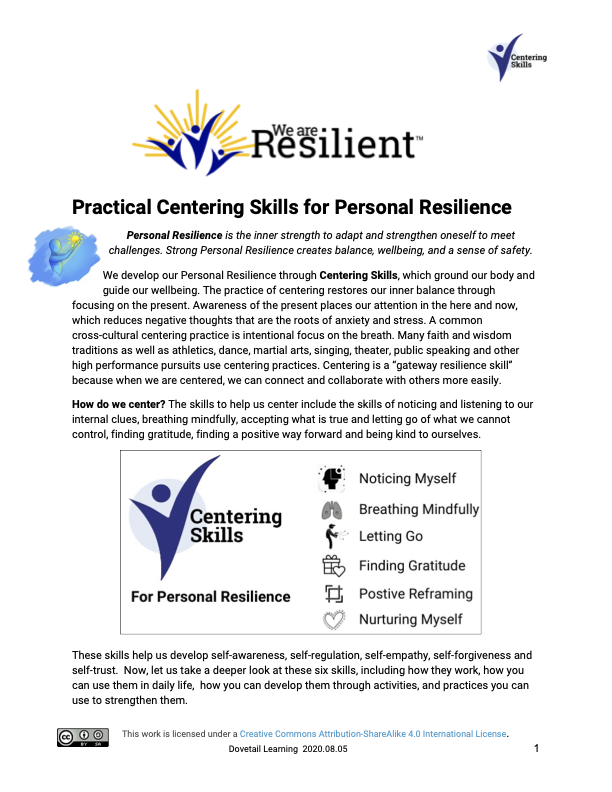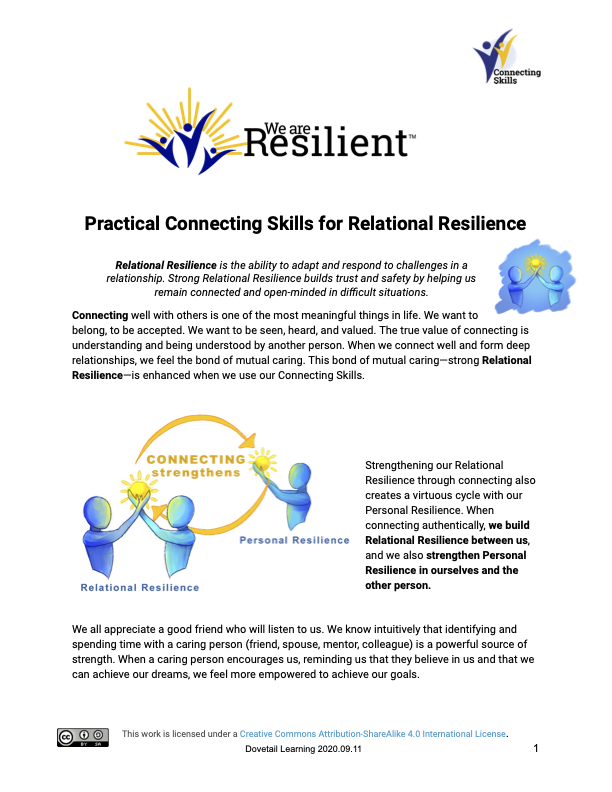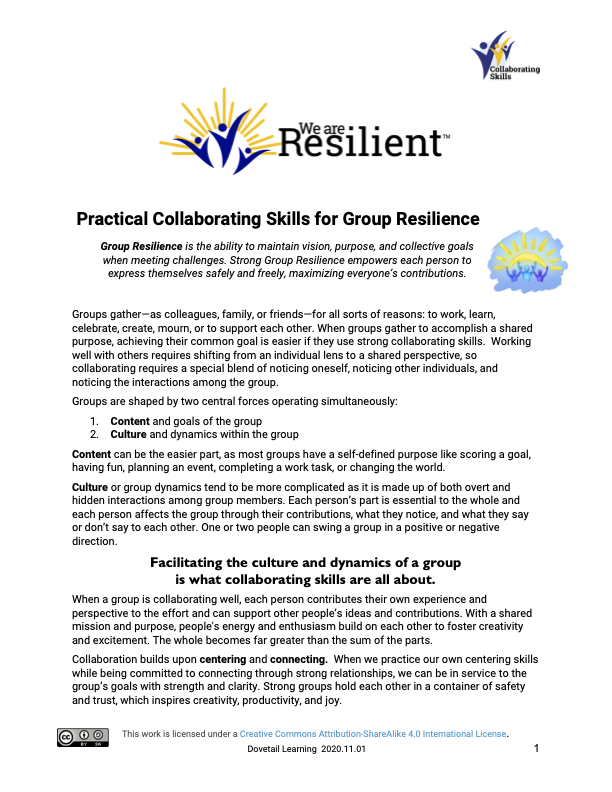 We Are Resilient Video Resources
Learn about what an Open Education Resource is and how you can use them.
Learn about the Centering Skill: Letting Go
Learn about the Connecting Skill: Empathizing
Learn about the We are Resilient and the 5 Types of Resilience
Downloadable Documents: Best Practices for Healthcare Resilience