We Are Resilient™ for Business
Business Impact
Helps team members successfully navigate daily stressors, adversity, and sudden change such as working virtually due to COVID-19.

Increases team productivity and performance utilizing skills to handle conflict quickly.

Enhances work culture and secures team member retention through a shared model, language, and experience of organizational resilience.

Promotes superior customer experience by centered, connected team members focused on the health and wellbeing of themselves and others.
What I learned in the Resilience Circle is so critical for my own mental and emotional well-being. Understanding my own "go-to reactions" to events and people around me and then knowing how to quickly evaluate and center myself is so applicable to both my personal and professional relationships. I have seen how my ability to center myself in times of high-energy or high-stress times makes me a more effective leader for my team. I believe every business should invest in strengthening the resilience skills of their teams to help build a healthy, collaborative organization.
~ Vanda Davis, Senior Business Leader, Fortune 200 Technology Company
The We Are Resilient™ Approach
We Are Resilient™ offers simple, effective, and research-based skills that help managers and team members cope with stress and access their best selves. These skills help us Center, Connect, and Collaborate. To use Resilience Skills most effectively, we also have to develop an awareness of both our Protective Patterns — which inform how we react to the world, and our Cultural Patterns — which inform how we view the world.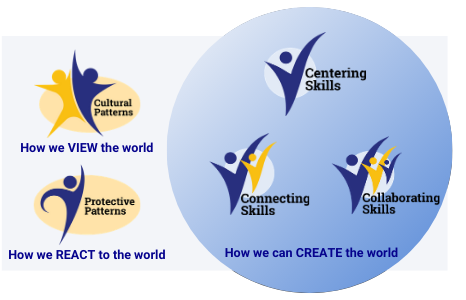 Step 1: Develop Awareness of Our Patterns
Noticing our Cultural Patterns
When Connecting or Collaborating, we are more effective with strong Cultural Resilience. We acknowledge our Cultural Patterns that have been passed down through the generations, as well as seek to understand the patterns of others. Cultural
Patterns can be:
Helpful in navigating our world

Sources of strength, belonging, and celebration

Perpetuating racism and discrimination

Assessed for each situation: Is my judgment helping or making it worse?

Noticing our Protective Patterns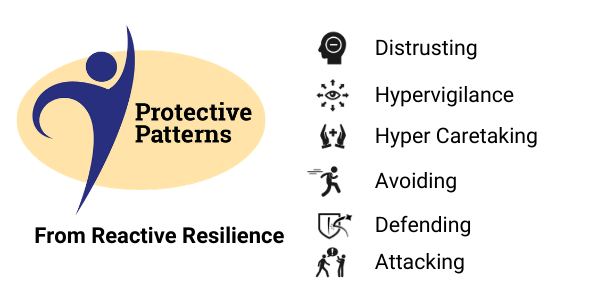 When facing a challenge, our initial response can be a common pattern of reactive resilience. These default reactions can be:
• Normal under stress
• Developed as protective mechanism
• Helpful in certain circumstances
• Limiting for us
• Assessed for each situation: Is my reaction helping or making it worse?
Step 2: Choose Resilience Skills
Skills for Centering Myself
Skills for Connecting with Others
Skills for Collaborating Together